Welcome to the website for the
Sequoia High School Alumni Association, Redwood City, California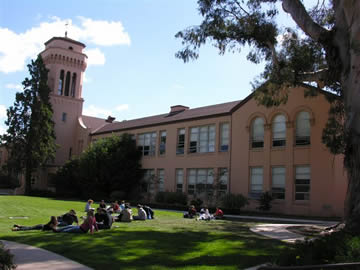 The Sequoia High School Alumni Association was founded in 1985 with an eye to the upcoming celebration of Sequoia's Centennial in 1995. Since then, SHSAA has accomplished many special projects to support and enhance Sequoia High School, our latest to erect a bronze statue of Cherokee scholar Sequoyah. We've also assembled a History of Sequoia High School.
Mission Statement
To maintain positive and productive relationships among present and former students, faculty, and staff; To promote and support Sequoia's traditions of excellence in education and community service.
Contribute to our annual fund.
Sequoyah Statue

We have erected a bronze statue here at Sequoia High School of Cherokee scholar, Sequoyah. The statue is a smaller scale near replica of a statue entitled "Sequoyah the Gift" that resides at Northeastern State University in Tahlequah, Oklahoma. See details about the Sequoyah Statue project. And, read Sequoyah's fascinating biography about how this extraordinary individual accomplished a feat, which no other person in history has done single-handedly, by developing a writing system known as the Cherokee Syllabary.

Who can join?
• A grad or former student at Sequoia High School
• A grad or former student at San Carlos High School*
• Any present or former faculty/staff
• Any Friend of Sequoia
*SHSAA adopted San Carlos High School alumni to give them a place to call home and to find out about their reunions, fellow grads, etc. All SCHS members have a special listing in the SHSAA database.

Moving, changed your address or have an item about you or another Sequoia or San Carlos alumni to contribute to Smoke Signals?
E-mail us at sequoiahsalumni@earthlink.net
Annual Picnic
The next picnic will be held 10:30 p.m. - 3:00 p.m., Saturday, August 17, 2024.
Check out the photos from the 2021, the 2022 and the 2023 picnic!
Sequoia Hymn
Listen to the Sequoia Hymn as performed by the Sequoia Choir at the February 15, 2018, opening ceremony of the renovated Music building.

The 1995 Sequoia Centennial - 25 years later
This year Sequoia High School celebrates 125 years of local education. See the special Centennial Smoke Signals edition from the fall of 1995. You can also view it as a 'virtual edition', where you can flip through the pages.
Raven Report
Read the Sequoia High School newspaper, "Raven Report", at issuu.com/ravenreport. The latest issue is always the first one shown.
Read a sample of the Sequoia Alumni newsletter.
Buy Sequoia merchandise.
Sequoia High School | Sequoia High School Football | Sequoia Cheer Team | Sequoia District Alumni Network Webpage